First Quarter: GSW 37 and HOU 38
Well, there is one Lin Lady tonight who will be happy regardless of who wins this game *cough Cath cough*
As for the rest of us, I will be keeping up with tonight's game and stats. This game has started out really fast paced. The announcers mentioned that GSW were #1 in 3 pt shooting, but so far, the Rockets are challenging that statistic. The Rockets have put in 3 pts after 3 pts and I am very proud of them!!  Harden, Lin, Morris, the newbie Anderson all put in 3pters and Parsons has put in two 3pters!! Lin also had a really good play where he dribbled around Stephen Curry and made a basket. The Rockets started out the 1st quarter with a 10pt lead at one point, but as you can see the GSW have picked up their ball game and now there is only a 1pt difference. So far Harden leads the Rockets with 10pts, Lin has 7pts, and Parsons has 6. I will be updating this post after each quarter so stick around!!
(credit: http://sports.yahoo.com/photos/rockets-tie-nba-record-3s-photo-040000716–nba.html)
Halftime: GSW 62 and HOU 77
This continues to be a fast pace game and I love it. The ball movement by HOU has been fabulous and they have hit 14 3pters already!! I also love how Jeremy has been playing more risky. For example, he went for the 3 when he was wide open in the 2nd quarter…he didn't make it, but I am glad that he still went for it. Lin had hurt his ankle a little during practice, but it seems like he has fully recovered by the way he is playing tonight! And I wonder if playing against the GSW is still kind of surreal to him.
I saw this tweet from Howard Chen and I am reminded how much I love the fact that Jeremy is forever grateful to the GSW. I also have to finish up the halftime report by mentioning this beautiful play by Stephen Curry of the GSW. He is known for his amazing shooting ability and tonight we see why. He was halfway across the court…way beyond the 3pt line and he made a last minute attempt to hit the basket before the halftime buzzer…and he made it in!!!! It was so beautiful…I know they will have to show highlights of it!! So I have to give Curry props for that move!! So far, Harden has 18 pts, Lin has 13, and Parsons has 10. So far, our leading triangle is doing very well.
3rd Quarter: GSW 86 and HOU 104
The Rockets have just beat their all time record of most 3pters in a regular season game. The record was originally 16 but they have already 17 3pters and it's only the 3rd quarter!! Chandler put in  two 3s, Lin put in a 3 and Douglas put in a 3!! And another exciting thing is Lin has outscored Harden so far in this game…with 20 pts and 7 assts!!
Harden signaling to the crowd that he made a 3pter!!
(credit: http://sports.yahoo.com/photos/rockets-tie-nba-record-3s-photo-034618853–nba.html)
Final Score: GSW 109 and HOU 140
Wow…what a great game!! I am soo proud of my Rockets and I am soo proud of my Jeremy!! They were on fire tonight!! They were so hot that they broke the all time record for 3pters in a regular season game AND playoffs game!! The Rockets had 23 3ptrs tonight…which tied the NBA record for the most 3s in a game!! They also scored the most points in Toyota Center History tonight with 140 pts! There were 3pters being shot from everywhere…from Lin, from Morris, from D-Mo, and even rookie Beverly got in the action!! Lin also set his own 3pt record with 5 of 8 from behind the 3pt line!! There was also a beautiful slam dunk from both Asik and Beverly!! Asik also had a double double in tonight's game!! (Did I already mention that this was a great game and that I screamed and clapped my hands the whole team!!) Towards the end, things did get a little feisty when Beverly was fouled when he was grabbed around the neck. Morris was sent out of the game and so was Green from the GSW. Delfino didn't play tonight because of his arm, but he was looking sexy as hell in his suit standing by the side lines. There were so much eye candy out there, especially with Curry added to the mix, *whew* sometimes I am glad I am watching from the comfort of my home so I don't make a fool of myself out there LOL.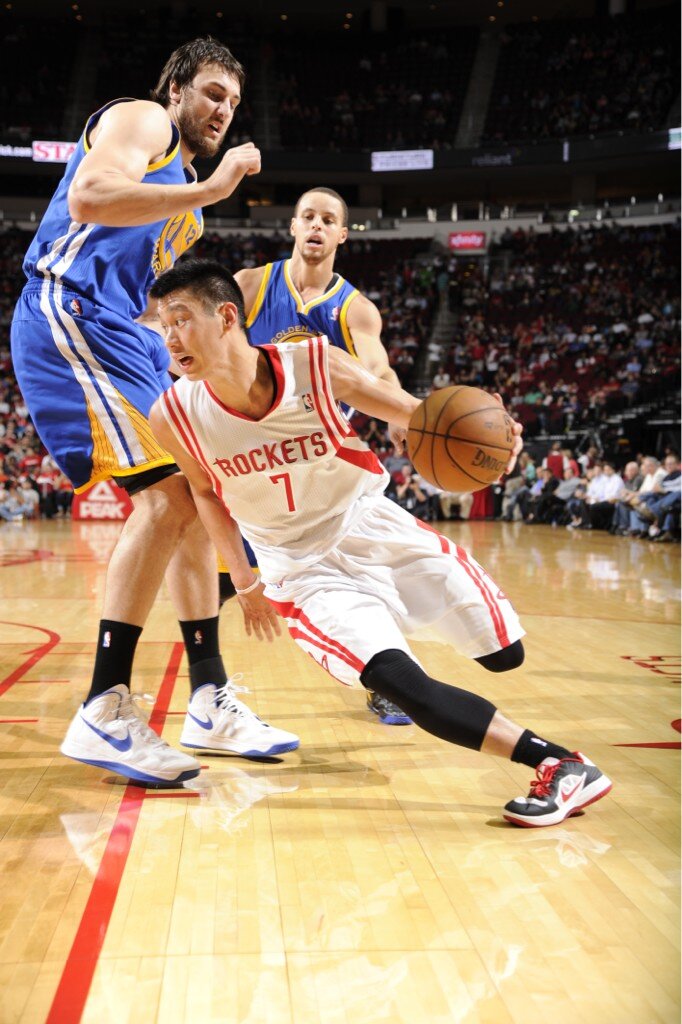 (credit: https://twitter.com/HoustonRockets/status/299002220576382976/photo/1)
Top 5 Scorers
1) Lin: 28 pts, 9 ast, 1 rbd —-> OMG do you see this?!!! Jeremy made #1 tonight!! He outscored Harden even!!! *fangirling right now*
2) Harden: 18 pts, 7 ast, 2 rbds
3) Parsons: 16 pts, 8 ast, 4 rbds
4) Douglas: 14 pts, 3 ast, 1 rbd —-> My other favorite also made the list!! Why is this so amazing?!…because he only played 14:52 minutes tonight!!
5) Morris: 13 pts, 0 ast, 4 rbds
Video Highlights
Again…so glad that I didn't miss this game!! I will update this post if I find more videos but I want to go ahead and publish this for the readers who are just now waking up and couldn't watch the game!! Feel free to comment and let me know what you thought of the game also!!
Side Note: I did not forget the anniversary of Linsanity…how could I?! I am hoping to do a separate post on that later