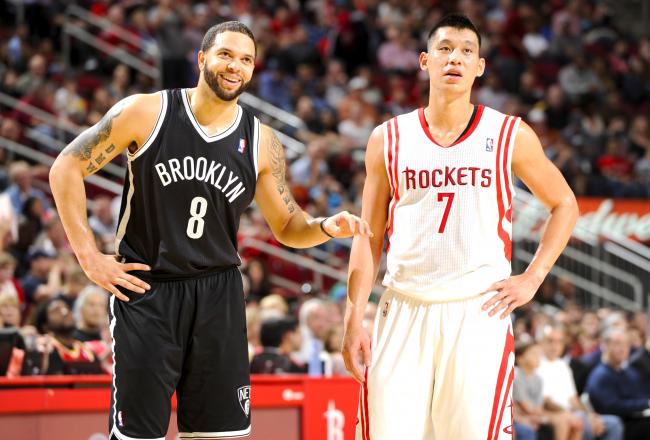 FINAL SCORE: BKN 106 AND HOU 119
Now this was a good game and very fun to watch!! We had a fellow Lin Lady, Marisol, in the audience and if she is reading this, I hope she supplies us with some insider reporting, please!!
This game started out on a roll! The Nets started this game coming from a winning streak. The Rockets won last night, but had been coming off of a losing streak. So I was anxious to see how this game would unfold. Well, D. Williams started out the 1st quarter strong and seemed to be leading the Nets to a win. He hit every basket he aimed for in the first quarter…and I thought that he was going to be a threat in the game tonight. Well I had nothing to worry about!! (And judging from how Williams wasn't happy with the refs and had to leave the game during the 4th quarter and refused a post game interview…I'm guessing that he was very upset with the Rockets win tonight! HAHA!!) At the end of the 1st quarter, the Nets lead the Rockets 29 to 28. Well that lead for the Nets was very short lived!!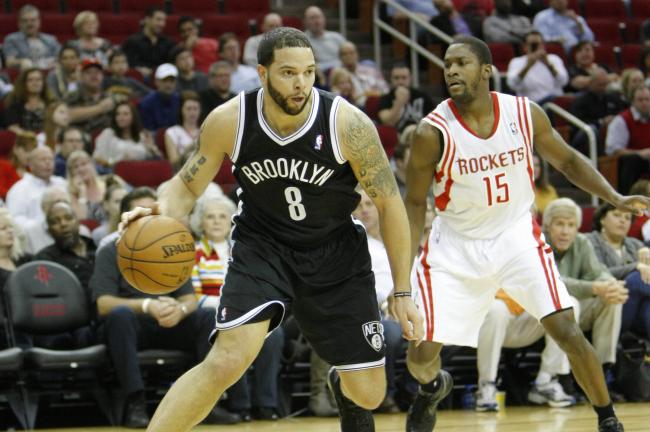 The rest of the game was all about the Rockets. They lead in the 2nd quarter (BKN 49 and HOU 62)…they lead in the 3rd quarter (BKN 80 and HOU 89) and of course, the Rockets won the game!! I really thought all the of the Rockets played well in tonight's game…from Asik's powerful "vanilla shake" dunk, to Delfino's 3pters, to Lin's great steals and Harden's constant baskets…great game. I think they needed last night's win to boost their confidences and now I hope they are on another winning streak.
I think Lin had some very nice moves this game and played with more aggression  Two moves stood out to me: 1) when Lin dished out a sweet pass to Parsons who dished out a sweet pass to Delfino who completed the play with a smooth and silky 3pter and 2) when Lin had a steal and took it all the way down the court, with little resistance, and put in a basket. Even though Lin's stats for tonight's game weren't that much different from his stats from last night, I just think he played with more confidence tonight. Sometimes it's not about the actual "play" but how you get to that "play", that really matters. I really, really hope Jeremy and the rest of the Rockets continue this team playing that is going on right now.
TOP 5 SCORERS:
1) Harden: 29 pts, 3 rbds, 7 ast
2) Asik: 20 pts, 16 rbds, 1 ast
3) Parsons: 16 pts, 6 rbds, 11 ast
4) Lin: 14 pts, 5 rbds, 9 ast
5) Delfino: 13 pts, 5 rbds, 0 ast
VIDEO HIGHLIGHTS
POST GAME INTERVIEWS
I agree…Omar was a beast tonight!! I was very happy with his performance tonight!!
OK…pause at 1:07. That smile…*dies*. Is it just me or does his skin and lips look extra nice and smooth in this video?? At 5:18…Jeremy mentions how McHale showing them video of their positive plays really helped the team out…so my speculation yesterday was correct. And pause at 5:50…really nice arms from that angle! He also mentions how he isn't too worried about his movie premier…I mean how much more humble can this guy be?! Any other basketball player would be trying to toot their own horn and promote their movie right now…but not Jeremy. And most Jeremy fans who have watched his videos knows he showers with Head & Shoulders dandruff shampoo…but did anyone else notice the white flakes on his black shirt?? I just wanted to brush his shoulders off in this video LOL!
This isn't Jeremy's juicy booty…but thank you Morris for that nice rear view LOL!
Thanks to mber for this pic of casino night…which for whatever reason, I am just now seeing!! OMG…he looks so good in this pic!! Whoever helped him get dressed, thank you!! He looks delicious!! Like I want to kidnap him…take a bite…put him in my pocket…and save him for a rainy day!! (I don't even know what I am really saying…I have no idea what anything I just typed really means.) Well it was a good conclusion to my night and now I will be sleeping peacefully. It's goodnight for me here in NC!
P.S. Does anyone know what Williams said to the ref to get ejected from the game?!